Description
Cosy Pet Tent Cave Bed Cat Small Dog faux suede House Washable Cushion  UKDC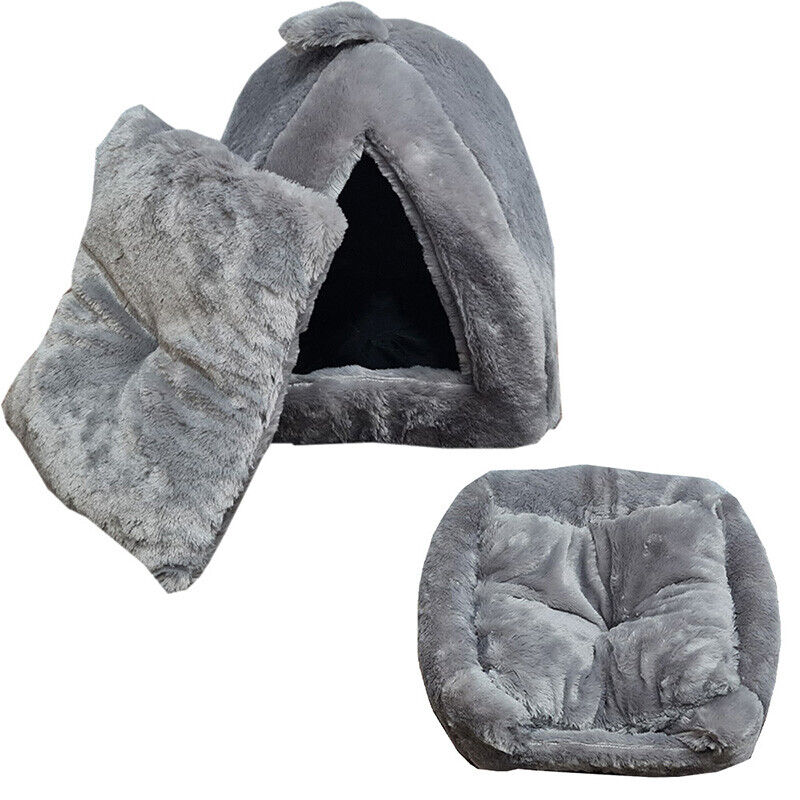 ITEM    SPEC

100% BRAND NEW

Product Description
Give your pet the gift of amazing comfort these pet tents for small dogs and
cats are designed to sail your baby to pet paradise every time they jump
into it. We've lined the inside with super soft poly-foam, fitted the tents
with an ultra-plush pillow, and given them a cosy room that your pet will
absolutely love.

Treat your furry friend to a cosy space to make their days that much comfier.
Here are more reasons why you'll love these pet tents. They do not collapse
like other cat and puppy tent houses. Can be machine washed on gentle cycle
without losing shape. Come with an anti-skid base that keeps them in place.

Can be quickly assembled and disassembled for cleaning or travel. Count on our
tent beds to pamper your pet with remarkable comfort, a touch of privacy and
cosiness. Designed for small dogs and cats using faux suede, linen or corduroy
and each come with soft poly-foam lining. The timeless style of our plush
pet beds allows them to seamlessly blend into any decor.

The dimension of this indoor tent gives your pet a touch of privacy and creates
a nice sense of security. The tent is machine washable without stretching out of
shape and acts like a soft crate making travelling simple.
Dimensions: 38cm(W) x 40cm(D) x 38cm(H).

Notes:
All measurement were taking manually, due to type of material it may
vary by 1-2cm. Machine wash (gentle) or hand wash, cold water, mild detergent,
no bleach, keep in laundry bag if machine wash and Air dry only.

Please inspect the item before use, if any damage in transit or check if this
is suitable for your pet. All pet products should be inspected on regular
bases when in use, to ensure the safety of everyone.
PACKAGE CONTENT
1x Cosy Pet Tent Cave Bed Cat Small Dog faux suede House Washable Cushion.
                SKU CODE: PET.HCG5